Having a diverse workplace brings many obvious benefits. For example, it provides opportunity for more workers, and reduces discrimination. But the advantages of diversity in tech don't end there. Leveling the playing field for people from all types of backgrounds can bring your business a host of other benefits as well.
Why Does Tech Need More Diversity?
In the world of tech, it's well-known that workplaces tend to be mostly made up of very specific types of people. It makes sense to be discerning when it comes to skill. But it's beneficial for companies to be open when it comes to race, gender, and other metrics. Like any other sector, technology can benefit from more women, people of color, people with disabilities, trans and queer people, and diversity in general.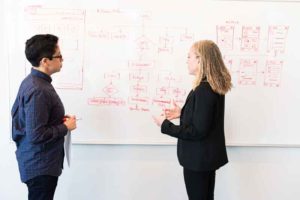 Some people think that ethics are the main positive aspect of diversity at work. We believe that this alone is reason enough to strive for it. But if you're looking for additional reasons to make these changes, know that diversity in business also strengthens your company in many other ways. It's truly a win-win for workers and employers in tech.
Having an open-minded hiring process that aims to give everyone a fair chance is a great starting point. Unlike the stereotype that some paint diversity initiatives as, this doesn't mean hiring people solely because of their classification. Instead, it means taking action to remove bias from the hiring process. It's good to keep in mind that bias can be unconscious, and you may not always be aware of it. Actively taking steps to confront it is the best way to get past it. Continue reading →