Now more than ever, tech companies are moving towards remote work. Most who make the switch find that working remotely boosts productivity, improves worker morale, and lowers costs. One of the other major benefits? Reducing the spread of illnesses. But how do you make sure that you're set up for success when implementing a remote workforce? Read on for our tips and tools for working remotely.

Remote Communication Tips
To make remote work successful, above all you need good communication. It may sound obvious, but there are specific tips and tools you can use to make sure you're set for success.
1. Use the right conferencing tool for your organization.
Just because a conferencing tool is trendy doesn't mean it's the best fit for your particular needs. These are some of the most common tools for audio and/or video meetings:
Zoom. Ever since remote work became more popular, "Zoom" has been used as a verb. This is for good reason, as it's one of the easiest tools to adopt and use. It has a whole host of features, without seeming overly complex for less technically-inclined folks. While it can support more, we recommend it for those whose meetings are typically less than 40 people at a time. You can check out Zoom plans and pricing here.
RingCentral. While you might need to be a little more tech-savvy to take advantage of everything RingCentral has to offer, it's a solid option. Their customer service is stellar, and they offer many premium capabilities. We recommend it for those who would like their staff to have individual work phone numbers. Learn more about their plans and pricing here.
GoToMeeting. This is often used by those in management to run more formal or large meetings. We recommend it for those who want the option to have more than 1,000 people on a call at once. (Hopefully as listeners rather than active participants!) View their plans and pricing here.
Google Hangouts. Everyone is familiar with Google. Many people have even already experienced Google Hangout calls, as they're free (for small groups) and integrated with Gmail accounts. Video and audio can sometimes lag a little more on Hangouts than competing products. But we recommend it for those whose staff use Gmail business emails. See their plans and pricing here.
2. Use a workplace instant messaging tool.
Even if you aren't working remotely yet, your organization is likely using some type of instant messaging software. If you're not yet, it's an essential tool for remote work. Some of the main options are: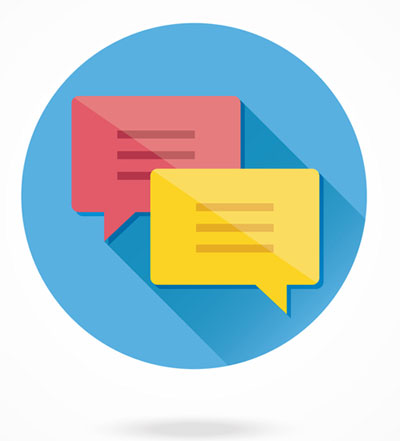 Slack. The gold standard for modern professional instant messaging software is Slack. It's easy to use, has in-depth yet intuitive features, and can be used for everything from individual or group chats to calls and screen share. We recommend it for organizations of any size. If your organization is small, you may be able to use the free version without needing the premium features. Check out all of the Slack plans here.
Google Chat. Did you ever use programs like AOL Instant Messenger (aka AIM) back in the day? Google Chat is reminiscent of that type of simple back-and-forth messaging. If your organization already pays for G Suite and wants to keep everything simple, Google Chat might be an option for you. Learn more here.
Skype. Until the last few years, Skype was one of the most popular messaging tools for working remotely. It offers calling (including video and screen share) and instant messaging features. However, it's a very clunky software that can significantly slow down your system, so we recommend considering a different option.
Microsoft Teams. This is Microsoft's version of a fully fleshed out tool for working remotely. It's the only one that's truly a comparable alternative to Slack. Teams might be the right choice for you if your organization uses Microsoft Outlook for Business. View the options here.
3. Use a shared ticket tracking system.
Every worker has items on their "to do" list. Many organizations use online ticket tracking systems with virtual ticket cards. This enables them to keep track of the status of various tasks. Some of the most common options include:

Jira. If you're in tech, chances are you've used Jira before. It's the most common ticket system for keeping track of new features and bug fixes in software development. If you're not in tech, Jira is probably not the best choice for your group. It's not very intuitive (even for those who have used it for years), and can feel overly complex.
Trello. If you're not in tech, or if you're okay with more straightforward simple tickets, Trello may be your best bet. It's very easy and intuitive to use, while still enabling you to add custom columns and other helpful ways to visually organize your tickets and progress. The official Trello plans and prices can be viewed here.
4. Set expectations with the full team.
When you're working in an office and you message someone, you don't necessarily expect to hear back right away. You may also feel that if it's urgent, you could just walk over to their desk. But when it comes to remote work, it's easy to have false assumptions and mismatched expectations.
Just because someone doesn't reply right way while working from home doesn't mean that they're watching TV or playing video games. They might be eating lunch, in the bathroom, on a call with another colleague, or head down focused on a work task.
Expecting an instantaneous response to a message will only lead to decreased productivity. That type of mindset can make people feel like they have to prioritize breaking concentration in the middle of a work task, in order to respond to any messages the second they arrive.
Your workplace should ideally set expectations in this area. Although these are custom to any workplace, here are some samples:
Don't expect a response between 6pm and 9:30am.
If your message is urgent, make it clear. That way, if someone quickly views a notification for it, they'll know that it is worth interrupting work tasks for. For example, "Urgent – do you have the password to our webhost account?"
If your message is not time sensitive whatsoever, say so. For example, "No rush, but when you have a chance can you send me the guidelines for our presentation next week?"
Tips and Tools for Working Remotely
At first it may seem daunting to switch to a remote working structure. But with a little time, you'll be wondering why you didn't make the leap earlier! For more, see our articles on 10 Advantages of Hiring Remote Workers and 7 Traits You Need to Work From Home.