So you're ready to apply for your first QA job. Or maybe you're already in QA, but looking to start at a new company. Where do you begin? The first step is putting together a stellar resume and LinkedIn profile. And the best part is, you don't need years of job experience to do so. Read on for our resume advice for QA testers.
Do You Really Need a LinkedIn Profile and a QA Resume?
In a word, yes. There are some careers where a LinkedIn profile might not be necessary. But a LinkedIn profile can provide invaluable job and networking opportunities in the world of tech.

Which Do You Start With?
It only takes five minutes to register on LinkedIn, so it's an easy first step. And if someone wants to add you, you'll have a link to give them even before you add profile details. However, when it comes to completion, it's more important to finish your resume first.
Although it's beneficial to have one, you can still apply to many jobs without a LinkedIn profile. The same can't be said of a resume.
How to Sign Up For LinkedIn
You can sign up for LinkedIn here. The registration flow requires the following information:
Email
Password (with six or more characters)
First and last name
Country/region
Postal code
Most recent job title (for example, QA Analyst or QA Engineer)
Most recent company
Industry (you can skip this and job title/company if you're a student)
You'll also need to enter a verification code to confirm your email address. After you enter the correct code, you'll see a list of recommended profiles to add. You can skip this, at which point you'll be taken to the "Add photo" page. You can also skip adding a photo for now if you'd like. However, you'll be more likely to have success networking if people can put a name to a face.
Finally, you'll be asked to "follow" interests of your choice, such as #careers or #culture. After completing this section, you'll be directed to the dashboard of your new account.
How Should Your QA Resume Be Formatted?
Your resume should be clean and easy to read, while providing an informative level of details. Ideally, it should not be longer than one page.
You can view an in-depth guide to QA resume formatting here.
What to Put on an Entry Level QA Resume
Getting creative (while maintaining honesty) can give you a boost with creating an entry level QA resume. If you haven't had any prior QA jobs, here are some ideas for keeping your resume and LinkedIn full: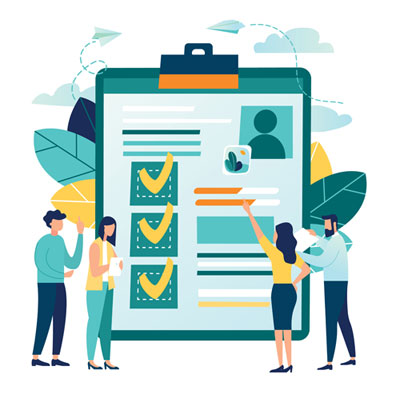 If you have a friend, family member, or even acquaintance who has a mobile app or website, ask if you can provide some free testing. This will allow you to list real website testing or mobile app testing experience.
Pick a website or app of your own choosing, and practice testing it – including writing test cases and bug reports. Although it may not be taken as seriously as "real" work experience, it will still show that you have the skills needed.
If you've had jobs outside of the QA field, list tasks and skills in a way that demonstrates how they also apply to QA. (More on this below.)
If you've taken courses (even free ones online), you can list the details. In some cases, employers don't put as much weight on certifications from sites like Codecademy or Udemy. But it's certainly worth including these if you don't have any job experience to list.
If you're in or just graduated school, you can list relevant education or extracurricular activities.
If you've volunteered, you can list any relevant activities – even if they're informal. For example, maybe you tutored your nephew, which required being extremely detail-oriented (an important skill for QA).
What If All Your Experience is in Another Career?
Maybe you've been in the workforce for awhile, but in a non-QA capacity. There are ways you can craft your resume or LinkedIn profile to highlight your experience as it relates to QA. After all, many other jobs utilize many of the same skills as QA.
For example, let's say that you worked as an office assistant. You could list the following aspects:
Frequently learned new technology, and experienced working with many software tools and mobile apps at work.
Excellent verbal and written communication, which lends itself to creating good bug reports.
Organized with tasks, which is an asset in writing test cases.
Time management, which helps in sticking to QA estimates.
Detail-oriented, which is a necessity for finding bugs.
Flexible with changing priorities, which is a huge asset in an Agile QA process.
Experienced working with many different roles. QA testers will work with everyone from developers to project managers to designers.
Do You Need to Include References on Your QA Resume?
No. You don't need to include a list of references on your resume, though you can add "References available upon request" at the bottom. However, it's a good idea to have your references ready as soon as you start applying. That way you won't have any delay if you get asked in the post-interview stage.
Tips on References
Ask permission first. Before you plan on using anyone as a reference, make sure they're okay with it. Even if the person has always raved about your work, it's never a good idea to use someone as a reference without permission.
Use references with different roles. If you use a diverse set of references, it will show your ability to work in a broader range. For example, let's say you wanted to provide four references. It would be great if you could use a project manager, developer, QA manager, and QA colleague.
Don't ask a current manager to be a reference before the "job offer" stage. This may seem like it goes without saying. But some people make the mistake of asking a manager to provide a reference before they're offered the new job. This results in tipping the boss off to your plans to leave, which can result in an unnecessarily awkward situation. And if you don't end up getting the new job, the awkwardness won't be temporary.
Ask for a good reference, not just a reference. You'd be surprised how often someone will agree to provide a reference, and then give less than perfect answers. If someone doesn't feel right making glowing comments about you, it's better to know before you list them as a reference.
Tell your references when you've listed them on a new job application. Maybe someone agreed to be your reference six months ago, and you're only using them now. It's a good idea to give them a heads up, so they don't get caught off guard when getting a call from your new potential employer. Not only is this a polite thing to do, but it will also help your reference be ready to sing your praises when they get the call.
Use your references sparingly. Even the most generous references don't want to go through 10+ calls on your behalf. If you're not sure that you really want a specific job, bow out before providing reference details.
It's okay to suggest aspects for your reference to mention. But do so in a humble way, and don't make them feel like it's a demand or requirement. For example, you could say, "If you're comfortable with it, it would be great if you could mention how we worked under tight deadlines!" But don't say, "Make sure you tell them about how good I was with deadlines." And never ask them to lie. They're already doing you a favor by being a reference.
Other Resume Advice for QA Testers
Don't use a silly font. (Comic Sans MS, anyone?) But you can spice up your resume with a little flair, like these examples.
Tailor your resume to each position. For example, let's say you're applying to a job as a freelance mobile app tester for a digital agency. You would want to heavily emphasize the app-related testing you've done, and that you're an experienced freelancer who's reliable at working from home.
You don't need to list every task you did at a job. In fact, in order to keep your resume under two pages, you'll almost certainly have to remove some. In order to decide which tasks to list, you can compare your options to those listed on the specific job description.
Proofread! A resume with typos is never a good look. But it's even worse in QA, which is supposed to be about catching errors.
Review it at least once every 6 months. You want to make sure it's completely up-to-date with any new skills or responsibilities. Even if you love your job, it's always important to have a resume ready. You never know what opportunities you might get, or what changes could happen at your current workplace. You might have even earned a new QA certification that you hadn't added yet.
LinkedIn Profile Tips
Use a professional picture. This doesn't have to mean taken by a professional photographer, but it's best to use one that's not too informal.
Keep the header background simple. Even keeping the generic one that LinkedIn defaults to is fine.
List your location as the most major city you're willing to commute to. For example, if you live in a smaller town outside of Chicago, you can still put Chicago as your city. Recruiters often filter by area when trying to fill a position, and they're more likely to have clients in bigger cities.
Treat your headline like your most important message. This is what recruiters and people you add will see first. For example, if you're actively looking for a QA Analyst job, you could put: "QA Analyst Available For Hire."
Your description should be easily readable. It can be tempting to want to put everything you've ever done in this section. But that's what the areas below it are for. People want to glance at this section and see your summary, not the whole book.
Be mindful that your actions on LinkedIn can be public in the "Activity" section of your profile. This is both good and bad. You may not necessarily want every post you 'like' to be broadcasted on your profile. But on the other hand, you can post content of your own, which will help set you apart.
Follow people who are in positions that you'd like to be in. Reading the content they write/share can inspire you to write your own.
Put as many skills as you can think of, ideally reaching the limit of 50. Recruiters often filter by skill keywords.
Ask people to leave you positive recommendations. Having good references directly shown on your LinkedIn profile can make a big difference in impression.
Other LinkedIn Tips
Network! Luckily, LinkedIn is an easier networking method for introverts. It isn't like Facebook, where you're expected to have a personal relationship with anyone you add. If you see people whose careers interest you, as a general rule you can feel free to add them. You never know when they might post a job opening down the road, or when you might be able to help them out.
The built-in LinkedIn feature can let recruiters know you're open – even if you're happy at your current job. You don't have to take any interviews you don't want to. But this will enable you to stay in the know about potential opportunities.
Tips for Seasoned QA Workers
We know, you probably don't need them! But here are some QA resume and LinkedIn tips for the old school crew.
You don't need to list decades worth of job history. Employers are interested in what you've done that's relevant to their needs. If you worked as an assistant twelve years ago, there's no need to include that at the bottom of your experience list.
If you stayed at a job for a few months or less, you may not want to include it. Employers (sometimes unfairly) judge people that they see as being job hoppers.
List the number of years of experience that you have at the top of your resume/LinkedIn profile. Especially if you only had one or two jobs (but stayed for a long time at both), employers might skim your details without realizing how experienced you are.
QA Resume Summary
Now that you have a strong resume and detailed LinkedIn profile, you're officially ready to start your job search! You can even guide others on how to write a QA tester resume. If you're not sure where to apply, check out our guide on How to Find QA Jobs.
Looking for a work-from-home QA job? We're often hiring. You can view our listings for remote manual QA testing jobs and remote automated QA testing jobs.