Many aspects of the typical Agile QA process are meant for long-term engagements with regular releases. But unlike a typical company, which might have the QA team testing the same app or site for years at a time, digital agencies cycle through projects regularly. Because of this, they have unique needs when it comes to QA testing.
So how do you implement a QA process that's optimized for creative agencies without sacrificing quality? Check out our list of QA recommendations for digital agencies below! (Looking to hire QA testers for your creative agency? Read more about our QA testing services for digital agencies.)
QA Recommendations for Digital Agencies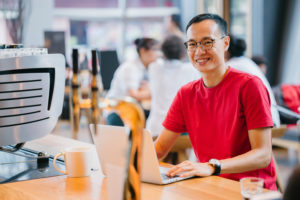 Hire freelancers. QA contractors usually have experience working on multiple short-term projects at once, which is perfect for digital agencies. Freelance QA testers are also self-managed, and accustomed to shorter ramp-up times on projects. When you find a good contractor, you can simply send the project link or build and let them work their magic.
Hiring a QA freelancer also works well with digital agency budget and commitment requirements. Instead of permanently employing someone at 40 hours a week, you can hire a freelancer on an hourly basis as needed.
Find QA testers that are all-stars at interfacing with clients. Oftentimes, QA for digital agencies won't even need to communicate directly with clients. But you definitely want someone that excels when the situation arises. QA for digital agencies is typically done remotely, so effective communication is even more important. (Learn more about the advantages of hiring remote workers or see our guide on tips and tools for working remotely.) Working with a digital agency client's team is a delicate relationship that requires a well-versed professional.
Identify self-starters. Creative agencies need someone who takes initiative, and doesn't require heavy management. A digital agency's QA tester(s) need to be proactive, organized, and communicative. Unlike a typical tech company, digital agencies need QA that can complete work thoroughly and reliably without a rigid Sprint process or daily standup calls.
Find a jack of all trades. You'll need someone who can test it all — newsletters, websites, mobile apps, e-commerce, and more. Because digital agencies have such a diverse range of client needs, it's important to have a QA tester that's a pro at testing all kinds of digital work, and with a QA portfolio from many different sectors.
Communication is Key

Use a simple format for bug reports. In the fast-paced world of creative agencies, there isn't always time for QA to write hundreds of test cases. You'll need someone who knows how to succinctly pass on important information. A more complex bug tracking system like Jira is great for long-term projects, but can sometimes reduce efficiency for short-term engagements. (If you do use Jira, see our guide on the Jira QA Workflow and Best Practices.)
Using a shared spreadsheet for bug reports allows for a shorter QA time frame. It also enables less technically-inclined colleagues to easily see and assess issues. In addition, it can be seamlessly shared with the client — without requiring them to create new accounts or learn how to navigate an unfamiliar tracking system to prioritize bug fixes.
Communicate hourly caps. When you need QA to cap hours based on budget, give them the details. But keep in mind that hourly caps may mean less comprehensive testing. If there are concerns, ask QA for feedback based on the budget and potential cap. When you're working with experienced QA professionals, they should be adept at providing guidance on recommended levels of testing for safer coverage.
Upgrade Your QA Process
Finding QA that specializes in digital agency work can be a game-changer. Once you get a reliable go-to tester or team, your process will be easier, more efficient, and significantly more cost-effective as QA leaves clients happier by reducing bugs. Unknowingly sending a buggy product to a client can be the difference between a long-term relationship or unhappy clients.
QA for Digital Agencies
Are you a creative agency in need of QA? Check out our QA testing services.