Not everyone wants to work from home. Some prefer to work in an office, surrounded by coworkers. (Extroverts, anyone?) But many people do their best work from home, or would like to give remote work a go. Do you have the right set of skills and home environment to excel at telecommuting? Find out if you have the traits you need to work from home.
What Traits Do You Need to Work From Home?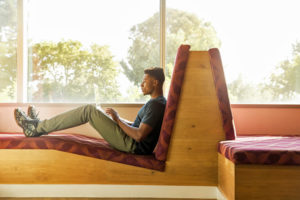 1. Being a self-starter. When you're the only one in your "office," you're in charge of time management. Managers can still have a high degree of oversight via Slack, emails, and calls, but it's up to you to supply the motivation for jumping into the right task at the right time.
2. Communication skills. Further, proactive communication skills, and knowing how to find the right balance. When you work remotely, communication is more important than ever. While everyone needs some "heads down" time to focus on getting work done, it's important for clients and coworkers to be able to reach you in a timely manner.
It's also important for you, as the remote worker, to proactively provide updates. You'll want to take into account the needs of your client or company culture and adjust messaging accordingly. When you have a well-oiled process, it can be just as – if not more – smooth as an on-site team. Out of all the traits you need to work from home, communication is at the top of the list. Continue reading →